CoFounder Weekly: May 5, 2019
CoFounder Weekly is a newsletter for founders.
This week:
🤔Thought Starters
📆Day in the Life: Paul Michaux
👩‍💻Investor & Founder Corner
🦄 The SF Starter Kit
💽 Throwback Sunday
😹 Funnies
✍Weekend Thought
💌 Did somebody forward this to you? Subscribe to get our latest issue every week!
🤔 Thought Starters
(Three Tweets this week that made us think)
📆 Day in the Life: Paul Michaux
(Day in The Life is a series about the daily routines of founders at different stages of the startup journey)
Paul Michaux is CoFounder of Prose, a custom beauty brand freshly made with natural active ingredients. Prose raised $25m from investors like Forerunner Ventures and Insight Partners. They have grown the team to nearly 70 employees in two years. He's from Paris and is based in Brooklyn, NY.
🔗 Read a Day in the Life of Paul Michaux
👩‍💻 Investor & Founder Corner
*****
Last week we shared a tweet by Sam Altman about focusing on your strengths over your weaknesses. As it so happens, CoFounder Weekly subscriber Dan O'Donnell helped produce a 25 min podcast episode "When Strength Becomes Weakness" with Adam Grant — worth a listen if you're into further exploring your own strengths.
🌎 Putting it out in to universe
Do you want to put something out into the founder universe? Let us know.
🦄 The SF Starter Kit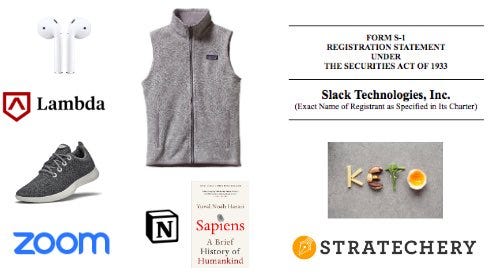 💽 Throwback Sunday
(Three startup memories from the archive)
1) Jeff Bezos played Anna Kournakova in tennis to promote Amazon's new apparel store in 2003.
2) One of AOL's first first commercials from 1995.
3) OG Homepages.
😹 Funnies
(LOLs from this week)
✍ Weekend Thought
By Greg Kubin
I had the opportunity to speak about entrepreneurship at a class at Princeton this week.
I shared my experience building HelloSponsor as well as starting a newsletter (ahem, CoFounder Weekly).
The students were eager and engaged. Way more than I was in college.
The instructor, Joy Marcus (who is also a VC), placed a big emphasis on establishing values and culture in the early days of a startup. I appreciated that.
I talked the importance of doing things that don't scale early on in a startup. The students hadn't yet read PG's essay. So as an example of doing things that don't scale, I asked the students whip out there phones and sign up for CoFounder Weekly. That resulted in 20 new subscribers. Hi there, new subs 👋
- - - - - - - - - - - - -
Beyond Meat's burger is better than the Impossible Burger,